COMPANY PROFILE:
Shenzhen BAK Medical Technology Co., LTD (hereinafter referred to as "BAK Medical") ,invested by Shenzhen BAK Battery Co., LTD, was formally established on February 20, 2020 . BAK Medical has achieved the qualification for the operation of the second category of medical enterprises. Our products KN95 masks have passed the test of GB2626-2006 KN95, EN149:2001 + A1:2009. Nowadays,BAK Medical has 10 mask production lines with a capacity of 250,000 / day, mainly producing materials urgently needed for epidemic prevention, including disposable face masks, KN95 masks and other products.
BAK group ,with the enterprise spirit of "unity, innovation, efficiency and harmony" and deep globalization, has actively assumed its global responsibilities, and makes every effort to provide various guarantees for overseas demands, committing to becoming a responsible Chinese national enterprise. Sincerely hope that everyone come to communicate and pursue common development, thus creating a better future together.
PRODUCT Information: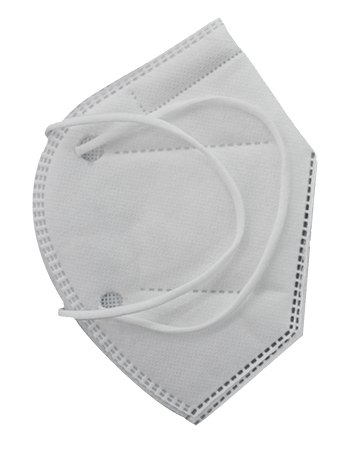 Product name:KN95 Protective mask (non-medical)
Model:BAK-20200322
Size: L (For adults)
Main material: Polypropylene
Product description: Uses: transportation, food, electronics, coal, iron and steel, cement, grinding, construction, medicine, fog and haze of dust environment, such as air pollution.
Standard: GB2626-2006 KN95
Storage conditions: Dry and ventilated place without corrosive gas
Storage temperature& humidity: -30℃~ 40℃,≤80%RH
Validity: 3 years
Production date: check on seal position
Manufacturer: Shenzhen BAK Medical Technology Co., LTD
Company address: BAK Industrial Park, Kuichong street, Dapeng District, Shenzhen,China
Tel:+86 755 6188 6818
Email:lyh@bak.com.cn zyud@bak.com.cn
Usage method: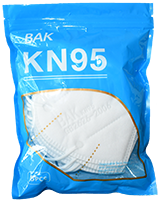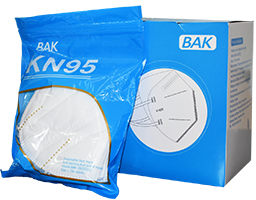 1、Open the package,take out the mask and open it.
2、Place the nose clip on the top of the mask and place the mask against the chin.
3、Pull the ear strap to the back of the ear and adjust the position as comfortable as possible.
4、Move and press from the middle of the nose clip to both sides, until the nose clip fits the nose.
5、Check the tightness of mask and face.
Attentions: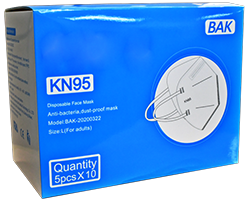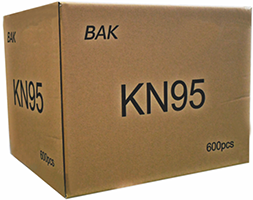 1、Please use this productas soon as possible after opening.
2、Do not use this productif you find outdated,packagedamaged or contaminated。
3、This product cannot be used as a gas mask。
4、This product is recommended to use within 24 hours.
5、Mask should be replaced in time after contacting withpatients or suspected patients.
6、Mask should not be used during sleep.
7、If you feel dizzy or uncomfortable, stop using it.
8、Patients with COPD, cardiovascular disease and pregnant women shoulduse this mask with caution.
9、In order to achieve better protection, please wear it in the correct way.
CLEAN WORKSHOP PRODUCTION: